Q3 MET MES SOLUTION FOR METALS
MMK METALURJI
ISKENDERUN - ISTANBUL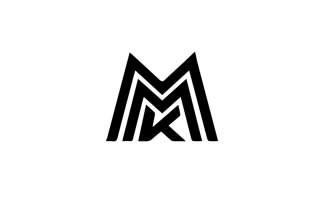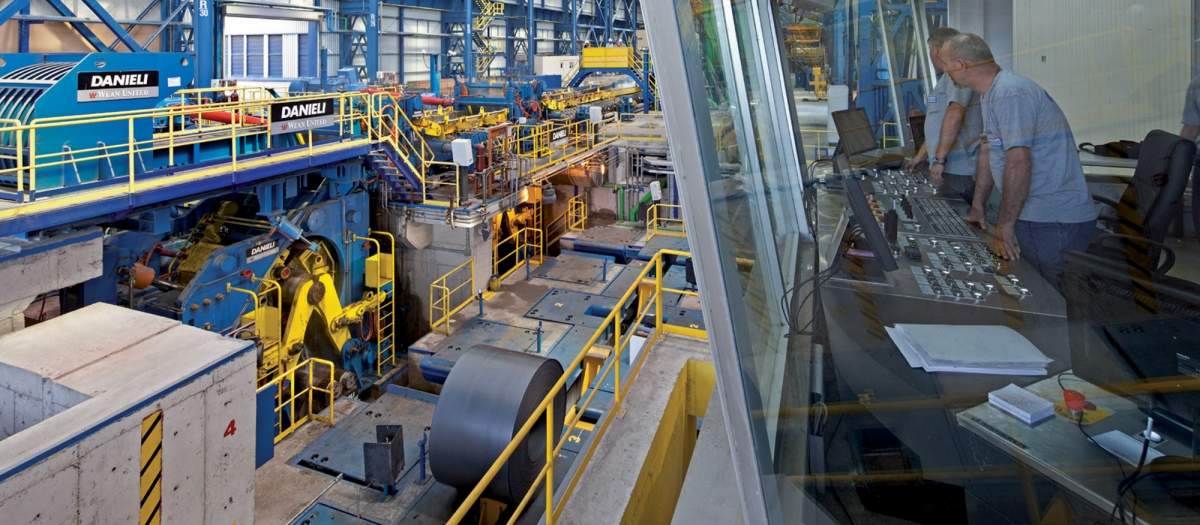 ISKENDERUN PLANT — Integrated mini-mill (meltshop, slab caster, HRM), cold mill complex (continuous pickling line, cold reversing mill, HDGL, coating line) & service center
ISTANBUL PLANT — Cold mill complex and service center
The customer
MMK Group is made up of various related companies under common management, whose activities are joined and unified to achieve common strategic goals of long-term competitiveness and sustainable growth. MMK Metalurji is Turkey's largest private one-time investment in iron & steel production and includes two production sites located in the industrial zones of Dortyol (close to Iskenderun) and Gebze (close to Istanbul). The integrated plants are designed to produce annually 2.3 million tons of steel products.
The challenge
MMK Metalurji turned to the experience of Danieli Automation for this challenging MES (manufacturing execution system) project for their multi-site production facility. These state-of-the–art plants has a production of 2.3 million tons of hot rolled coil, cold rolled coil, coated coil and sheet products. The plant's size and complexity forced MMK Metalurji to seek the best available solutions for achieving excellence in manufacturing and data transparency from the shop floor to management. Full support of optimization and tracking of production, quality and storage is vital for efficient management and ensure optimum visibility of numerous plant processes.
The solution
Q3MET is a fully integrated Manufacturing Execution System (MES) specifically designed for the metals industry and it is a proven solution for integrated plants, minimills, meltshop, casting, hot rolling, cold rolling, cold mill complex, finishing lines, service centers, tube & pipe mills. Q3MET supports the demanding requirements of a modern metals producer from receiving of Customer order to its execution, based on ISA95 standard. Q3MET gives business process transparency from shop floor to management, ensuring optimum production control and supporting plant operations in technical order dressing, planning, scheduling, production tracking, quality certification and storage operations. Q3MET coordinates and guarantees production activities in the Iskenderun and Istanbul plants.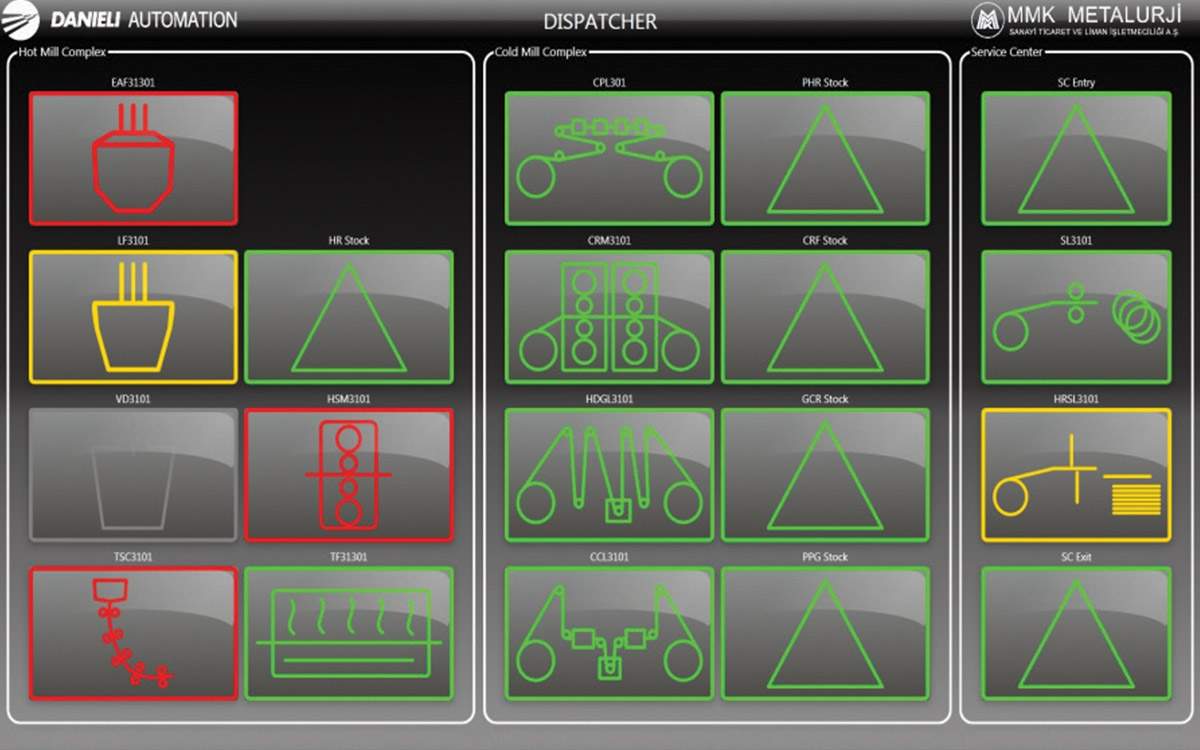 System Administration

> System security and configuration tool
> System user group management

Order Data Management

> Production and attribute configuration
> Order data management
> Technical order dressing
> Acceptance and feasibility check

Production Planning & Scheduling

> Production planning generation and maintenance
> Production scheduling and machine short time management
> Cut Plan optimization for the Steel Service Centre

Production Progress Control

> Automatic production tracking
> Manual production backup and maintenance
> Packing management
> Stoppage management
> Inspection and quality decision management

Quality

> Sample management
> Mechanical test management
> Final product certification

Stockyard

> Stockyard configuration
> Incoming, intermediate and finished storage management
> Handheld support
> Crane terminal touch screen support

Web-Reports

provide an open reporting system with predefined reports such as: up to date production reports (daily or period), cross-area reports (melt shop-casting-rolling mill), actual vs foreseen production, additional customer reports can be easily added;

PPI, API, SPI

PPI (Plant Performance Indicator), API (Area Performance Indicator), SPI (Site Performance Indicator dispatcher) provides graphical overview of production areas and plants. Dashboard and big screen displays provide realtime visualization of processes, dispatching activities with the status of all production lines and storage facilities.

Web Report System

A complete set of reports that allows MMK Metalurji to have an up to date overview of the production at any area of the plant and summarized business reports involving scheduling, production, inventory and quality.

Key Benefits

> Security group based reporting system
> Compatibility with web browsers
> Easily extendable with new reports
> Easily configurable

Software and Hardware Platform

Web-Report is installed on a Microsoft Windows Server running native IIS (internet information services). It is accessible to all clients connected to the publishing network. Information is provided based on users access rights.

SPI-Dispatcher, PPI & API

SPI (Site Performance Indicator) Dispatcher, PPI (Plant Performance Indicator) and API (Area Performance Indicator) are visual tools that allow the supervisors to follow the plant situation, the melt shop behaviour and each line's process status. SPI-Dispatcher, PPI and API collect real time information from Q3MET and the numerous Level 2 process control systems.

Main functions

> SPI-Dispatcher: gives an overview of the whole plant situation using colours to highlight each area's status. It is possible to have an overview of the nearest production history (shift and day) and the next production schedule to have an overview of coming work. Going in the detail of the stockyards, it is possible to see the storage map with the box occupation and an overview of the stock summaries. Dispatcher is installed in a "dispatcher room" where the operator use the information to report directly to the top management 24 hour per day.
> PPI: gives an overview of plant process areas (i.e. meltshop) with summary information on the productivity, production steps and timing of each single area. The aim is to inform the shift managers and operators in advance about any unforeseen situation (delay, production stoppage, loss of productivity) that can lead to a breaking of the casting sequence. It is installed in each pulpit of the meltshop plant to allow the shift managers to always stay informed on the status of the whole process.
> API: gives the actual information of each process area (i.e. electric arc furnace, ladle furnace, vacuum degasser, continuous casting macking), summarizing the main parameters through KPI or showing graphically the process with the forecast for the remaining processing. API is installed in the pulpit of each area to allow the process engineers to have a summary of actual process status and to promptly react to process deviations.
The benefits
Software and Hardware Platform Q3MET run on server platform using Oracle RDBMS on Microsoft Windows Server. Oracle is installed on two servers and configured using Oracle RAC (Real Application Cluster), a cluster database with shared cache architecture to provide high scalability and availability for business applications. The Servers use fibre channel disk RAID to ensure high availability and performance.
> Complete plant integration.
> On-the-fly production schedule re-adaption.
> Barcode support for storage and shipping operations.
> Web based production reports, cross-area reports, actual vs foreseen production.
> Plant Performance Indicator, Area Performance Indicator and Site Performance Indicator Dispatcher provide real-time visualization of processes, storages and dispatching activities with the status of all facilities
> Minimize sales order processing time for checking and accepting customer order.
> Products defined using a fully configurable attribute catalogue which prevents typing errors while accepting orders.
> Tight integration and alignment with the SAP ERP System for having material purchasing and delivering information, and providing heat production with chemical specifications, scrap consumption and detailed information on each piece produced on each production line.
> Planning starting from fully feasible accepted orders using a rule-based planning sequencing tool which also allows booking of any available material in stock.
> Optimal plant utilization of production scheduling as a result of coordinated scheduling and tighter control of operations across complex areas.
> Cut plan tool support users in optimizing cutting plans for material repair, sheets and slits production.
> Real-time data availability with production tracking from all lines of the two sites automatically from the various Process Control Systems or, as used for the Service Center, directly by Q3MET and with support of manual data entry.
> Definition and scheduling of tests. Evaluation of the collected mechanical and chemical test results, allowing automatic generation of Quality Certificates based on delivery notes.
> Handling deviation due to quality laboratory result failure, defects or dimensions outside of order tolerance ranges.
> Stockyard management using crane terminals with touchscreen and wireless hand held terminals with bar code reader ensuring error-free material identification.