Q3 INTELLIGENCE
NUCOR STEEL
SOUTH CAROLINA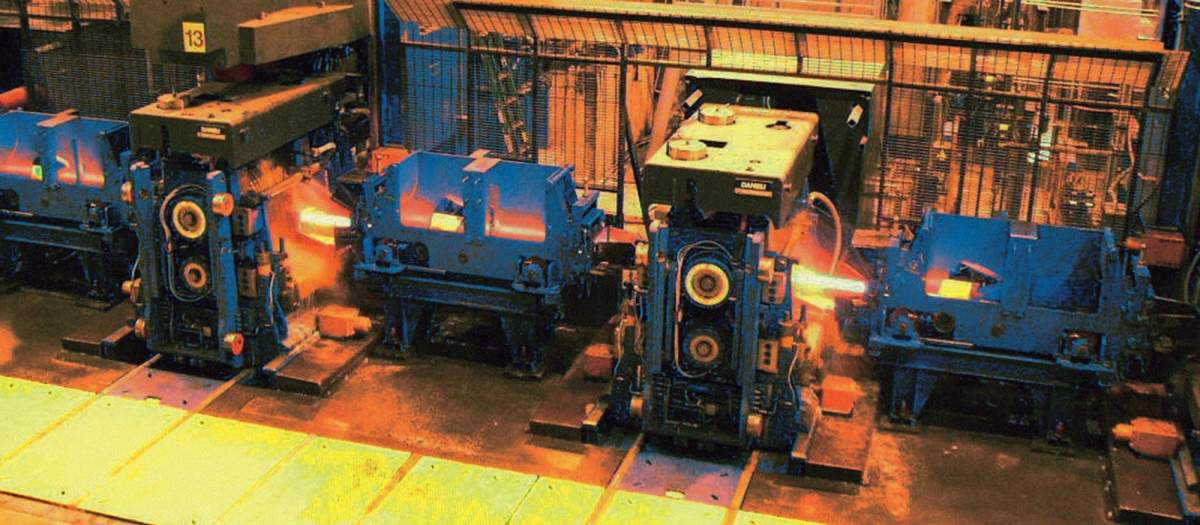 "The role based access to the data makes it simple for our team to use Q3Intelligence"

Ben Souther, Rolling Mill Supervisor, Nucor
The customer
Nucor Steel South Carolina is a premier producer of angles, channels, flats, rounds, rebar and hexagons. Nucor also produces rod, bar, and hex in coil. The facility is located in Darlington, S.C., United States. Since beginning of operations in 1969 as Nucor Corporation's first bar mill, Nucor Steel Darlington has grown to become the largest bar producer in the Southeast.
The challenge
Nucor Steel South Carolina's facility consists of two high efficient bar rolling mills that produce special bar quality, merchant bar quality, and reinforcing bar products with over 600 distinct steel grades. Being the quality a priority for the rolled products, it became essential to have a centralized repository able to correlate the process information to the finished products in order to use analytical tools to support the mill output. The Q3Intelligence System accomplished the need to merge heterogeneous sources into a single data warehouse, transforming data streams into useful information to optimize the whole process.
The solution
The Business Intelligence (BI) vertical solution for the metals industries developed by Danieli Automation is a real time data monitoring system and data analysis platform. Q3Intelligence is based on the Microsoft BI and Analytics platform using SQL Server to support IT-developer-centric data management, reporting and administration requirements, while business-user data analysis needs are delivered by the web dashboards and through Microsoft Excel via the custom Q3Intelligence data analysis templates and the exhaustive KPI library. Q3Intelligence extends information delivery systems towards being complete decision platforms by combining operational data streams with advanced analytical tools.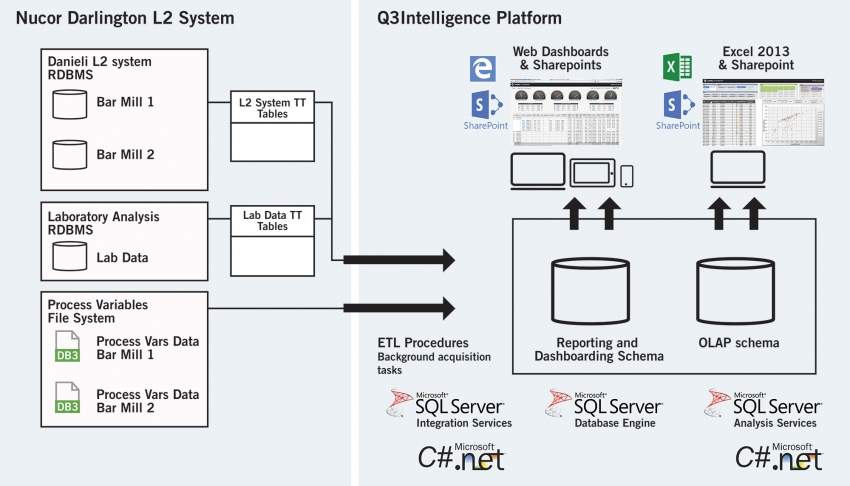 Q3Intelligence set up and methodology

Danieli Automation's Level 2 System commissioned modules comprises the Production Module, that manages the flow of data from the time billets are charged into the reheat furnace up to the end of the mill lines; the Downtime Module, that tracks and categorizes scheduled and unscheduled downtimes; the Quality Control System Module, that aims to automatically identify the quality level of the rolled products on the basis of measurements collected during the process and the application of a set of pre-defined quality evaluation rules; the Roll Shop Module, that provides regular and timely roll and setup shop management information to operators. Through automated tasks, all this data is centralized into The Q3Intelligence System data warehouse, that thanks to the predefined and built-in interfaces towards Danieli Automation's Level 2 System, makes it a plug & play application. The software commissioning was carried out throughout different steps by means of several visits on site, in which the integration of new modules and system tuning were performed gradually according to Nucor's standards. Each phase involved specific Nucor personnel to properly configure the system. Due to the needs to centralize and correlate Danieli's Level 2 system data with a third-party system (laboratory data), an interface to exchange data was studied and design on site to import the laboratory test results into the Q3Intelligence centralized repository. Finally, the wide usage of the Microsoft SharePoint framework led to the integration of the Q3Intelligence modules into Nucor's SharePoint portal, leveraging the usage of the centralized data model thanks to its native compatibility with such environment.

Custom-tailored management of data

Gigabytes of information that were previously stored across several independent relational databases are now inserted into a custom-tailored data warehouse and analysis data models. One-click access to process data which had previously taken hours to track down is now instantly available.

Enhanced real-time production monitoring

Real-time data visualization tools, showing graphical snapshots and historical trends enabling end users to instantly be informed about the status of both production lines. The web dashboards are fully configurable, allowing to monitor specific production KPI's and metrics according to single user's needs. Visualization is enhanced with the adoption of a top down dashboard design that starts with the automatic evaluation of individual Key Performance Indicators (KPIs) and then tracks down the production to single day/shift details or to production order details, with ready access to specific custom reports.

Boosted data analysis capabilities

Analytical data structures and data models are constantly updated with production data, overcoming the need to easily and immediately correlate any information, from timings to quality and process variables, throughout different perspectives, aiding decisionmaking activities. This data structure architecture permits to historize the information, giving the ability to compare production trends and performances over the time as well to correlate the product's quality to any process of its process variables. All this information can be accessed from the company's intranet through the ready-to-use Excel dynamic analysis templates or through the SharePoint portal by means of several features such as Excel Web Services.

Role-based access to data

The need for high level The need for high level restrictions to certain information is easily fulfilled using the Q3Intelligence integrated security functionalities, based on Active Directory. For both systems, the web dashboards and Excel analysis workbooks, it is possible to rapidly set up roles with customizable privileges, thus preventing unauthorized accesses. Finally, any configured security role is automatically inherited by SharePoint, making it simple to handle security accesses.

BI power to staff in order to improve the business

Nucor Steel Darlington recognizes the additional value Q3Intelligence brings to its users. This is guaranteed thanks to the use of a wide-ranging data analysis platform comprising multiple data analysis tools for different needs, which permits the correct analyses of the data that is gathered. It is a powerful tool for production teams, quality assurers, process engineers and other business process key users, and allows such to focus on the monitoring and analysis of process data, thus reducing the time needed to reveal the underlying reasons for production anomalies.
"The power of Q3 Intelligence data analysis system has made it a true tool for us to use; not just another piece of software"

Ben Souther, Rolling Mill Supervisor, Nucor
The benefits
Q3Intelligence leveraged the value of the existing process data to achieve a real-time and unified view of actual and historical plant performances. All users from both mills have now the possibility to readily browse production information thanks to a centralized repository of integrated data from multiple sources. Q3Intelligence includes fully customizable advanced statistical tools which offer short learning curves for first time users. Q3Intelligence has transformed reporting at Nucor by reducing the manual data access and by delivering a centralized real-time view of the production.
> Centralized production data generated from multiple process control systems
> Ordinary front-end tools (Web Browser and Excel) shortening learning curves
> Improve ease of access to data in terms of front-end analyses, system performance and maintenance by internal IT personnel
> Significantly decreased time to access internal data streams, via a unified methodology
> Real time monitoring of plant production data together with the integration of existing reporting tools
> Customization of advanced dynamic data analyses
> Self-service BI that permits users to query data independently without needing extensive IT skills
> Extranet access to information thanks to the native integration with Microsoft SharePoint Long time storage of all production data in centralized data warehouse for advanced data analysis
> Archiving of historical data that is purged from the source systems
> Optimize complex data accesses while avoiding any impact on the operational source systems
> A single data model for all data regardless its source