Q3 INTELLIGENCE
NUCOR STEEL
TUSCALOOSA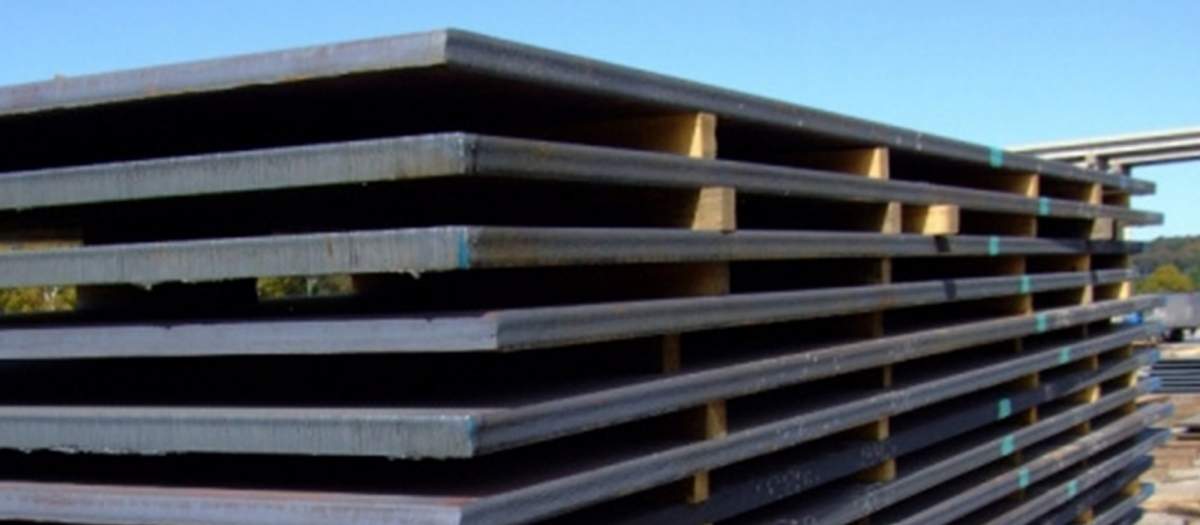 "The interfaces designed during the software engineering phase allow new data points and data sources to be easily integrated into the existing data model."

J.T. Thomas, Nucor
The customer
Built in 1985, Nucor Steel Tuscaloosa, Inc. was the first U.S. steel mill to employ Steckel mill technology to produce high quality wide plate and coil. It produces over 1.2 million tons per year of carbon and high-strength low-alloys steels, as hot rolled coil and cut-to-length plate for structural and pressure vessel applications. The company is committed to total quality and continuous improvement. As a leader in the carbon coil and plate markets Nucor
continues to invest in equipment, training, and technology to ensure that its products are of the highest quality.
The challenge
Production at Nucor spans process areas from the meltshop to the finishing lines, comprising: Electric Arc Furnace, Ladle Metallurgy Furnace, Slab Caster, Steckel Mill and Temper & Cut-to-Length line. Each of these plant areas relies on distinct Level 2 systems supplied by different providers which store data in differing formats by means of different technologies.
In the search for a solution to address the problems of the paucity of aggregated data derived from the various individual process area control systems, the co-existence of different storage typologies, unification of front end analysis tools and internal maintenance of system architecture, Q3Intelligence was chosen, also due to Danieli Automation's worldwide steel-making knowledge and experience embedded in the product.
The solution
The Business Intelligence (BI) vertical solution for the metals industries developed by Danieli Automation is a real time data monitoring system and data analysis platform. Q3Intelligence is based on the Microsoft BI and Analytics platform using SQL Server to support IT-developer-centric data management, reporting and administration requirements, while business-user data analysis needs are delivered by the web dashboards and through Microsoft Excel via the custom Q3Intelligence data analysis templates and the exhaustive KPI library. Q3Intelligence extends information delivery systems towards being complete decision platforms by combining operational data streams with advanced analytical tools.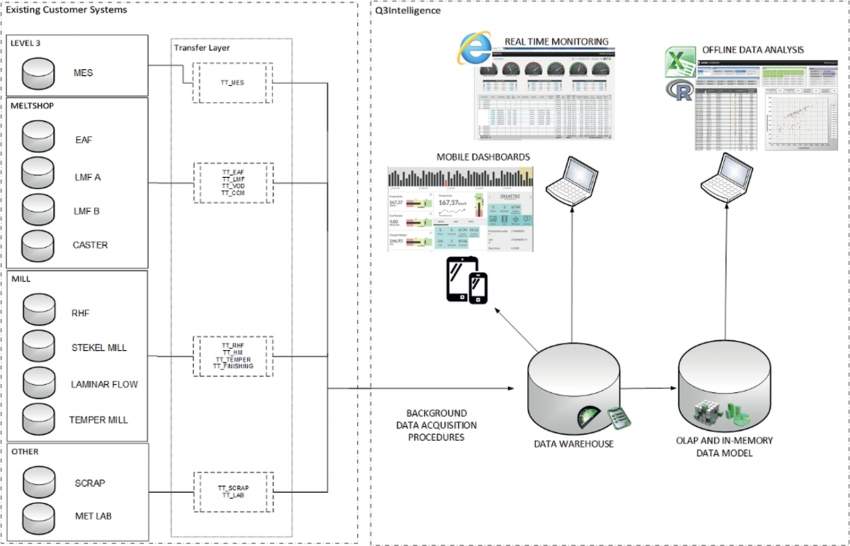 Q3Intelligence set up and methodology

The Nucor project was executed in three main phases. Firstly a far-reaching analysis phase was performed, together with the customer, during which all the available data sources and existing reporting tools and capabilities were considered. The output was the complete description of the systems and data available across the different production areas, together with a summary of actual analysis capabilities with its pros and cons. This was the input necessary for the second phase: the software engineering. This started with the data interfaces definitions for the various Nucor Level 2s and MES systems, and continued with the Q3Intelligence Data Warehouse and Data Models customization, and adapting the Q3Intelligence front-end to the customer needs. Lastly there was the commissioning phase for system installation and tuning, as well as training for the end users, starting with the Melt Shop areas and proceeding to the Rolling Mill and Quality Laboratory.

Custom-tailored management of data

Gigabytes of information that were previously stored across several independent relational databases are now inserted into a custom-tailored data warehouse and analysis data models. One-click access to process data which had previously taken hours to track down is now instantly available.

Enhanced real-time production monitoring

Real-time, fully configurable web dashboards provided for all plant areas immediately react to individual user requests. Visualization is enhanced with the adoption of a top down dashboard design that starts with the automatic evaluation of individual Key Performance Indicators (KPIs) and then tracks the production down to single day/heat details, with ready access to already existing or newly added custom reports.

Boosted data analysis capabilities

Data warehouse and data models are constantly updated with fresh production data thus building up a historical data model which permits tracking of individual semi-products from the starting liquid steel to the finishing rolling operations. From anywhere within the company network, users with varying responsibilities have the possibility to explore the data via ready-to-use custom Excel dynamic analysis templates.

Role-based access to data

The need for high level restrictions to certain information is easily fulfilled using the Q3Intelligence integrated security functionalities, based on Active Directory. For both the web dashboards and Excel analysis workbooks, it is possible to rapidly set up roles with customizable privileges, thus preventing unauthorized accesses.

BI power to staff in order to improve the business

Nucor Steel Tuscaloosa recognizes the additional value Q3Intelligence brings to its users. This is guaranteed thanks to the use of a wide-ranging data analysis platform comprising multiple data analysis tools for different needs, which permits the correct analyses of the data that is gathered. It is a powerful tool for production teams, quality assurers, process engineers and other business process key users, and allows such to focus on the monitoring and analysis of process data, thus reducing the time needed to reveal the underlying reasons for production anomalies.
"The Q3Intelligence system allows us to efficiently capture and make available all
the necessary process information our teammates need to make profitable and
timely decisions."

J.T. Thomas, Nucor
The benefits
Q3Intelligence leveraged the value of the existing process data to achieve a real-time and unified view of actual and historical plant performances. All users from the melt shop, caster and mill areas, together, have now the possibility to readily browse production information thanks to a centralized repository of integrated data from multiple sources. Q3Intelligence includes fully customizable advanced statistical tools which offer short learning curves for first time users. Q3Intelligence has transformed reporting at Nucor by eliminating the previous manual aspects to such and delivering a centralized real-time view of the production.
> Centralized production data generated from multiple process control systems
> Improve ease of access to data in terms of front-end analyses, system performance and maintenance by internal IT personnel
> Significantly decreased time to access internal data streams, via a unified methodology
> Real time monitoring of plant production data together with the integration of existing reporting tools
> Customization of advanced dynamic data analyses
> Enhanced capabilities in tracking the production histories of individual products
> Analysis independence for users thanks to the ease of frontend usage
> Self-service BI that permits users to query data independently without needing extensive IT skills
> Archiving of historical data that is purged from the source systems
> Optimize complex data accesses while avoiding any impact on the operational source systems
> A single data model for all data regardless its source