DANIELI AUTOMATION NEWS
2020, 30th June
Nucor Steel Gallatin QSP Remote FAT: an example of resilience
Q-SPACE1 is a real step forward in the development of assistance in the digital era
---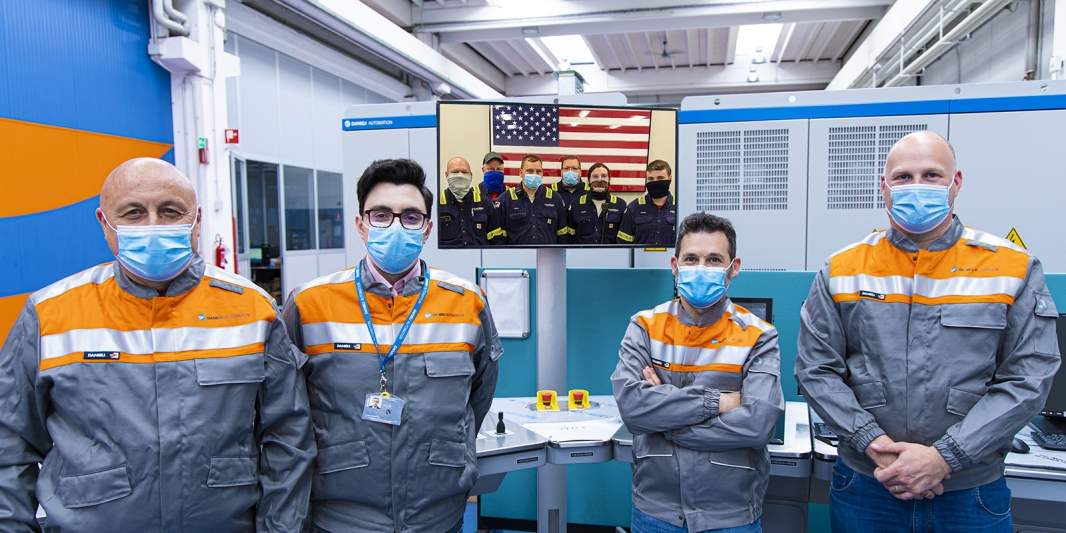 In the weeks starting from June 17th, Factory Acceptance Tests for the Downcoiler Area automation of Nucor Steel Gallatin QSP were held at Danieli Automation, Italy.
In spite of the hard times which made it impossible for the NSGAL team to attend the tests in person due to travel restrictions, the FAT were completed successfully with the remote participation of the Customer thanks to Q-SPACE1, the all-in-one solution making the most of Augmented, mixed and virtual reality to support technicians throughout the field execution process, enhancing their skills for a faster and more efficient completion of service and repair tasks.
The complete automation system of the Downcoiler Area was installed in a dedicated space at Danieli Automation Headquarters, along with the HW and SW infrastructure required for real-time data exchange and live shared view.
Q-Space1 was set-up with a fixed camera providing a panoramic view of the FAT area and a helmet-mounted camera to view the details of the Main Control Desks and Local Control Stations. Once a fast Ethernet communication with Nucor Steel Gallatin site was established, the Danieli Automation and Nucor teams ran the full set of tests as if they were in the same room, with the Nucor team actually operating the system from remote and the Danieli Automation team acting as lookouts and providing the "physical" interfacing with the automation hardware.
Both teams were able to share the same workspace in real time, including the application SW development tools which were used to provide clarifications on the structure of various control functions. All the tests were completed successfully to the great satisfaction of both Nucor and Danieli Automation teams, confirming the resilience of Danieli solutions in the face of adversity.